2024 UPCOMING CHAPTER TRAINING
2023-2024
IL-IAAI Officers and Board of Directors
President Rob Helmkamp
1st Vice President Timothy Morris Jr.
2nd Vice Brad Pierson
Immed Past President Cory Reeves
Secretary Greg Vespa
Treasurer Chris Miller
No. Zone Director Chris Diebold
No. Zone Director Jake DeMay
No. Zone Director Greg Marty
Cent. Zone Director Bob Dunn
Cent. Zone Director Darren Winchester
Cent. Zone Director Bill Fulk
So. Zone Director Shane Emrich
So. Zone Director Chester Borkowski
So.  Zone Director Jeff Pride
Click on the Training tab along the top.
Illinois Chapter – IAAI
The Illinois Chapter of the International Association of Arson Investigators website is designed to keep our membership informed about the latest news in our organization.
Thanks to our Chapter Sponsors!
Looking Forward to our Future!
Training and Tools
Contact Information for all Officers and Board of Directors
Full Membership includes electronic quarterly IL-IAAI Newsletter,
IAAI Fire and Arson Investigator Magazine subscription, three Chapter 
in State Training Conferences, and a plethora of networking opportunities
Training information on other State Conferences and a myriad of other training opportunites
Membership Information and By-Laws
Links to other organizations.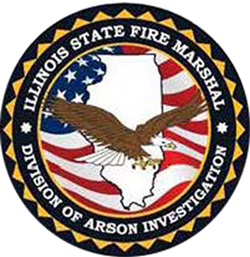 Arson Hotline
Help fight the crime of arson and keep our communities safe.
To report suspected arson, call the Office of the State Fire Marshal's arson hotline at:
800-252-2947
To report suspected insurance fraud or arson call the National Insurance Crime Bureau's hotline at:
800-835-6422
Arson Hotline and Response Criteria
Law enforcement and the fire service can request an Arson Investigator and/or K-9 Team, 24 hours a day, seven days a week, at
1-800-252-2947
An OSFM Arson Investigator should be called when:
There is a death or serious injury.
The property involved incurs a large dollar loss.
The property involved is state property, federal property, or school property.
Local authorities have determined the cause to be suspicious or incendiary.
Local authorities cannot determine the cause and/or origin of the fire.
Conducting the investigation by local authorities may be or could be considered a conflict of interest.
Other unusual circumstances exist.
HELP US RAISE FUNDS AND PREVENT BURNS WITH THE FIRE SAFETY ALLIANCE AT CAMP "I AM ME"
A special and unforgettable one-week camp experience for children and teenagers who have experienced injuries from burns. Through the generosity of donors, supporters, and volunteers, the IFSA offers this camping opportunity at no-cost to campers; including lodging, meals, activities, and transportation to and from camp (YMCA Camp Duncan – Ingleside, IL).
Contact Us
Drop us a line anytime, and one of our Officers or Board Members will respond to you as soon as possible.
Illinois Chapter IAAI        P.O. Box #446        Fairfield, IL   62837